While Spotify has lots to cater for synthpop fans, some of the newer independent synthpop bands from the UK are not yet represented. Two of these artists, Northern Kind and Starbase 109 have both recently released brilliant follow-up albums. If you like bands such as Depeche Mode, Yazoo, Human League, S.P.O.C.K., Kraftwerk, or Freezepop then do yourself a favour and check out these new albums!
Northern Kind – WIRED:
Northern Kind are Matt and Sarah from Leicester in England. Their first album Fiftythreedegreesnorth was an instant hit in the synthpop community and reached number 5 on the download charts in Sweden when released a couple of years ago. It was a fantastic début and gained Northern Kind a lot of listeners, especially fans of Yazoo, Erasure, and early Depeche Mode.
Mastered by the legendary Simon Heyworth, WIRED: is Northern Kind's second album and I think it's the best synthpop album since Parralox's début last year. The first release on the new Electronically Yours label, WIRED: is a rich, lush, varied album with some fantastic pop songs and a depth and maturity that was perhaps lacking from the first album. WIRED: is still firmly synthpop, but now Northern Kind have found their own sound and are much more than a modern-day Yazoo.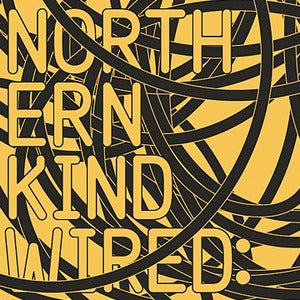 Opener Pop is aptly titled: I love this song, it's perfect pop and is the ideal introduction to the album. Electric to Me is a gorgeous slow number and highlights what a talented vocalist and lyricist Sarah Heeley is. Automatic proves that Matt and Sarah could be writing for Kylie, while Dirty Youth has some of my favourite sequences on the album. Crash could have been written for Fiftythreedegreesnorth (it's one of the best Yazoo songs Vince Clarke never wrote) and album closer T&TEXT is an extended, superior remixed cut of Northern Kind's xmas song Tears and Tinsel.
DJ Gary Hunter has written an excellent review of the new album and gave it a stunning 10 out of 10 score, so head over there if you want to read more. I'd give WIRED: a 9.5, mostly because the intriguing instrumental track Un.Titled is just too short!
Stand-out tracks: Pop, Electric to Me, Automatic, Dirty Youth, Crash, T&Text
Starbase 109 – My New Invention
Starbase 109 are a space-age duo from Manchester, England who recently supported The Stranglers on a major UK-wide tour. If you like S.P.O.C.K. then odds-on you'll definitely love Starbase 109. Their brand of humour is brilliantly deadpan and is present in both their songs and in their amazing live show. I saw them perform in Manchester a couple of years ago and have never seen anything quite like it before or since. Every tune has its own dedicated piece of engineering to illustrate the song, all lovingly crafted by the band: just check out this photo for one of them!
The new Starbase 109 album My New Invention has 13 synthpop songs to tickle your ribs. Their first album was full of brilliant low-key humour and thankfully My New Invention has more of the same, all wrapped up in tight beats and Kraftwerk-esque synthpop. Cigarette has a wheezy loop as its driving sound, while Alien Space Craft weaves in the Space Invaders dum-dum-dum-dum sound wonderfully.
It's the lyrics though that particularly endear this band to me, lyrics like:
Phobia: "

Is is climbing on the ceiling? Is it going to jump on my face? Is it floating in the toilet? Flush it down, get it out of my place!

"
Big Dog: "

There's hairs all over my carpet and I can't get rid of these fleas. He keeps on running away from me and hiding behind the trees.

"
Biology: "

Someone threw an eyeball at me. Hit me in the face. I didn't like it very much.

"
Vacuum Cleaner: "

Have you checked the filter on the vacuum cleaner? It isn't working any more. Have you checked the plug? It's probably broken. Or perhaps it's blown a fuse.

"
Stand-out tracks: Phobia, Cigarette, Alien Space Craft, Big Dog, Pop Star, Vacuum Cleaner