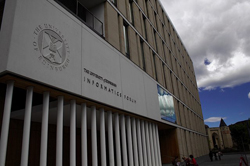 I attended a Spotify event last night: Copyright Law vs. Market Economics hosted by the Scottish Society of Computing and Law (SSCL) at the School of Informatics, Edinburgh University. Speaking and presenting were Will Page (Chief Economist, PRS for Music) and Niklas Ivarsson (Director of Content, Spotify). @technollama (Andres Guadamuz) has blogged about this already but here are a few additional notes.
Will Page's presentation was very interesting, I was slightly surprised how well-informed and pro-Spotify he was, as I had assumed the Performing Rights Society were still playing catch-up. Key to the industry seems to be getting used to thinking of music in terms of ARPU (average revenue per user, as used by ISPs etc.) instead of unit sales.
Some stats (Spotify figures are up to end of July 2009):
Out of the 40% music-buying population, the current average spend on music is £63 a year (roughly half the annual subscription cost to Spotify).
2.7 million Spotify users in UK
The number of premium subscribers is now well into the 6-digit range
Spotify has had 3 million tracks accessed (out of 4.5M available) and over 1 billion streams
Spotify users listen to lots of back-catalogue material
The largest Spotify demographic group is 20-29 year-old men
There was some emphasis on how Spotify is re-engaging the older population (the 60+ demographic was the second largest), although I wonder how much of that is down to teenagers saying they are 99 years old (as they do frequently on MySpace and Facebook)?
Niklas Ivarsson's presentation was, as Andres notes, a bit of a sales pitch and he was preacing to the converted (almost everyone attended had used Spotify already). Nonetheless, it was still very interesting and gave a few more clues about Spotify's future direction.
Niklas acknowledged that APIs will become increasingly important, especially for upselling. I spotted a slide which showed a picture of a Playstation 3 (ps3) and mentioned both games consoles and media extenders. This is a possible indicator to some kind of embedded DNLA server within Spotify (although encryption may be a challenge here).
Looking ahead, Niklas listed some other areas Spotify are looking into, including:
More social features (playlist sharing etc.)
Better discovery and music recommendation services
Usable APIs
More artist-related content such as links to concert tickets and merchandise
A more-integrated download offering to expand on the current Buy From links to external websites.
Photography by David Reitter.
UPDATE
Will Page's paper based on his talk is available here (PDF).