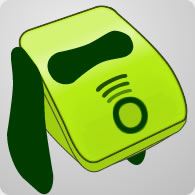 I meant to blog about this a few weeks ago but got distracted… anyway, if you're on Twitter and haven't seen this, check out Spotibot.
Spotibot is "your personal, unofficial Spotify buddy, powered by Audioscrobbler!" It's an impressive Twitter-based music recommendation service that has recently grown to include other non-Twitter features.
If you're on Twitter, all you do is send a message starting @spotibot similar to then add the name of an artist artist:

Spotibot then uses Audioscrobbler to determine a related artist, checks this against the artists on Spotify, then after a few minutes replies back to you with a suggestion and a Spotify link:

It works really well, and you can even ask it about the same artist again and will receive a different recommendation. It's not perfect though: Audioscrobbler might not fully understand musical similarities so you'll get an artist who's not quite like what you expected, and some results from Spotibot give the inevitable "This album is currently not available" message in Spotify, but it's a great Twitter tool that's already introduced me to several new bands.
The links returned by Spotibot are an enhanced version of the regular open.spotify links, including album art, label detail, how many tracks, when it was added to Spotify, and an option to share on FaceBook. Here's what one looks like (click the image to see the actual webpage):

Developer Andy Smith says that he's still working on Spotibot and adding new features which is great news as I think Spotibot is an excellent example of mashing up multiple services into one neat tool.